Each month Used.ca sponsors community events here on Vancouver Island. This month the sunshine has finally arrived so make sure to head out to these fantastic local events we're proudly supporting:
1.) Relove Market – May 6-7
2.) Hike for Hospice – May 7
3.) Capital Bike Spring Go By Bike Week – May 29 – June 4
4.) Ballet Victoria presents Peter Pan – May 4-5
5.) Victoria Symphony's The Doo Wop Project – May 6-7
6.) Supply Victoria 
7.) Incoming Festival – April 21 – May 4
8.) Victoria Symphony's Spectacular Spring Gala – May 5
9.) MS Walk – May 28
10.) Eves of Destruction Roller Derby – May 6
11.) Women's National Basketball Canada vs Japan – June 2
12.) Victoria Beer Week – May 5-13
13.) VCM 41st Annual Mother's Day Musical Garden Tour – May 13-14
14.) Raymond James Father's Day Walk/Run for Prostate Cancer – June 18
15.) Beer Bacon and Bourbon Festival – June 24
16.) Victoria Chinatown Lioness Lions Club Shred-a-thon – May 27
17.) TD Victoria International JazzFest – June 24- July 3
18.) Volvo Presents: Upper Fort StreetFest – June 3
19.) Victoria HarbourCats Season – June -August 2023
20.) Teeny Tiny Garden Tour supporting Victoria Hospice – June 11
Relove Market –  May 6-7
The ReLove Market is an empowering fashion community dedicated to the pursuit of personal expression balanced with environmental sustainability.   We bring local curators and fashion enthusiasts together in a welcoming, inspiring and creative in-person forum to share ideas and textiles! Join us for the finest in secondhand & vintage clothing May 6 & 7 from 12-6:30pm at Market Square, 560 Johnson St. And don't forget your reusable shopper for all your fabulous finds. Be sure to tag your snaps from the day with @therelovemarket & #relovegeneration
Hike for Hospice – May 7
Hike for Hospice is back! Join us for our annual in-person walk on Sunday, May 7, 2023.
Gather a team of friends and family, challenge your co-workers or join as an individual to help support end-of-life care in your community.
Everyone is welcome! Bring along your four-legged friend for your chance to win the "Best Dressed Dog" award.
Check-in and entertainment starts at 9:00 a.m and the walk begins at 10:00 a.m. The scenic 3.5 km loop will take us from Fisherman's Wharf Park on the harbor, to the ocean and back again. The route is accessible for all ages and abilities making it a great way to come together in support of hospice care in our community. Register Today!
Don't forget to buy your 50/50 raffle tickets! This year's jackpot is anticipated at $10,000 with half going to the winner. For more information and to buy tickets visit https://victoriahospice.rafflenexus.com/
Capital Bike Spring Go By Bike Week – May 29 – June 4
Join thousands of cyclists in Greater Victoria for Spring Go By Bike Week (May 29 – June 4)!
Go By Bike Week is a 100% FREE tri-annual event encouraging everyone to try cycling for the week! Cycling is proven to improve happiness and productivity, as well as both mental and physical health! With gas prices on the rise, there is no better time to leave the car at home. Not to mention, it's super fun!
Aside from personal benefits, Capital Bike organizes Celebration Stations along popular cycling routes, runs challenges, and offers hundreds of prizes.
Register at GoByBikeBC.ca! If you've registered before, just log back in!
More info available at CapitalBike.ca/go-by-bike-week/
Ballet Victoria presents Peter Pan – May 4-5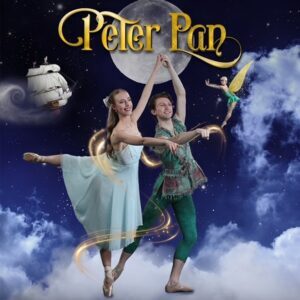 BV presents a contemporary twist on J. M. Barrie's classic tale of the fearless boy who refuses to grow up. Join the Darling family on their journey to Neverland, where they encounter mesmerizing mermaids, fanciful fairies, pillaging pirates, and much more! An adventure for the whole family. VENUE: Royal Theatre, 805 Broughton Street. Buy tickets here.
Victoria Symphony's The Doo Wop Project – May 6-7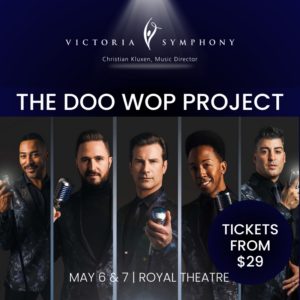 May 6 & 7 | Royal Theatre
Tickets from $29
Nothing sets bodies swaying or toes tapping quite like the classic sounds of Frankie Valli, The Drifters, and artists of the Doo Wop era. In this playful project, VS Principal Pops Conductor Sean O'Loughlin leads audiences on a journey that starts with its humble origins – and leaps forward in time to imagine how modern hits might sound, given the same treatment. Featuring stars of Broadway smash hits Jersey Boys and Motown: The Musical, The Doo Wop Project revisits and recreates some of the greatest music in pop and rock history! Buy tickets here.
Supply Victoria
SUPPLY Victoria (a nonprofit dedicated to diverting materials from the landfill and putting them into the hands of artists, students, and teachers) has launched an online store for their stock of used art supplies at https://supplyvictoria.ca/collections ready for in-store pick-up or zero carbon bike courier delivery!
Incoming Festival – April 21 – May 4
Incoming Festival is the newest festival from Intrepid Theatre, featuring an eclectic and electric programming of brand new work from artists from across the country and right here at home. There's theatre, dance, cabaret, audio installations and free workshops at venues across downtown. It's a festival of premieres – world premieres, BC premieres, and Victoria premieres! Try something new, and join us at Intrepid Theatre this spring for 10 brand new shows over 4 weeks. Tickets from just $10.
Victoria Symphony's Spectacular Spring Gala – May 5
Gala Chairs Tom & Terri Siemens have the pleasure of inviting you to a special fundraising event Spectacular Spring Gala • Featuring Tenor Josh Lovell.  All proceeds benefit the VS and our Youth Education Programs.
Friday, May 5, 2023  – Crystal Ballroom Fairmont Empress
Champagne Reception: 6pm
Dinner and Entertainment: 7pm
Join us for an elegant and fun-filled evening with a champagne reception, gourmet food, fine wines, seated dinner, plus exclusive entertainment with Christian Kluxen, Sean O'Loughlin, Giuseppe Pietraroia and our wonderful orchestra, an online auction, and more!
Tickets $350 PP • Music Champion $675 PP* (*includes ticket and special recognition)
Purchase tickets or make a gift online at victoriasymphony.ca/gala  Black tie preferred • Generous tax receipt is provided. RSVP by May 1
MS Walk – May 28
Let's celebrate the power of the MS community at the Victoria 2023 MS Walk on Sunday, May 28th at Cadboro-Gyro Park. Plan to arrive around 9:00 am to enjoy entertainment, warm-up exercises, speeches, and then at 10:00 am we'll begin the walk! Choose to walk either a 2km or 5km route. We're excited to see you! The event is free to join! Visit MSWALKS.CA
Eves of Destruction Roller Derby – May 6
After a four-year COVID delay, the Daisy Pushers, the Eves of Destruction's third house team, will make its debut on Saturday, May 6 against Seattle's Grave Danger. With a new look andfresh and familiar faces, the Pushers' pause has only made them more excited to finally get on the track.
Following the Pushers' game, long-time fan-favourites The Margarita Villains will take on the Grunge City Rollers from Marysville, Washington, for another 60 minutes of hard-hitting action.
Tickets for May 6 are $10 in advance and $15 at the door. Get yours before they sell out at www.universe.com/eodderby
Hosted at Esquimalt's Archie Browning Arena, the event is family friendly–kids under 10 are free!–and includes a licensed beverage garden, food and other vendors, and a 50-50 draw. Doors open at 5, first whistle is at 5:30.
Women's National Basketball Canada vs Japan – June 2
Canada's Senior Women's National Team is set to host an exciting exhibition game against Japan on June 2, 2023, at the Save-On-Foods Memorial Centre in Victoria, British Columbia. The game, known as Rim-to-Rim, will celebrate the Pacific Rim nations and mark the beginning of Canada's journey to the Paris Olympics 2024.
Tickets will be available for purchase from April 21 at 10:00 a.m. PT via https://selectyourtickets.com/event-pro/rim2rim-2023-canada-vs-japan/.
The Senior Women's National Team is currently ranked fifth in the FIBA World Ranking Women and will be participating in the upcoming FIBA Women's AmeriCup 2023 in León, Guanajuato, Mexico. The team is coming off a fourth-place finish at the FIBA Women's Basketball World Cup 2022, their best finish since 1986.
Rim-to-Rim will be the first time in over 20 years that Canada's Senior Women's National Team has played in Victoria, making it a must-see event for basketball fans.
Victoria Beer Week – May 5
Victoria Beer Week returns May 5 – 13, 2023, showcasing BC craft breweries in unique event settings all across Greater Victoria. VBW 2023 will feature 40 BC craft breweries at fun new events throughout the city. Join us for the launch event Lift Off or a groovy '70s sour beer disco party, Sour Power. Treat your taste buds with Beer & Pizza or Dubbel Down, a Belgian inspired night of beer and cuisine from the Victoria Public Market. Celebrate hops from southern hemisphere at Down Unda and try out the best brews in BC at the finale event Touchdown! Whether you're an aspiring Cicerone, or simply want to celebrate the province's bounty of craft beer, Victoria Beer Week has an experience brewing just for you. Tickets are on sale now at victoriabeersociety.com
VCM 41st Annual Mother's Day Musical Garden Tour – May 13-14
Join us for this beloved community event celebrating mothers, music, and our rich garden culture right here in the city of gardens. Now in its 41st year, we feature eight springtime garden gems from all over Greater Victoria. Each one unique and sure to inspire.
Two-day passes are $40 (plus service charges where applicable) and include exclusive access to each garden and to our plant sale!
It's a great way to celebrate Mother's Day while supporting the VCM's efforts to keep music education, performance, and wellness thriving in Victoria. Purchase tickets here.
Raymond James Father's Day Walk/Run for Prostate Cancer – June 18
The Raymond James Father's Day Walk/Run for Prostate Cancer is a family friendly 3k or 5k walk or run in support of Island Prostate Centre, held on Father's Day, June 18, 2023. We are excited to celebrate 20 years of running and walking to support local patients and their families! Since the first event in 2003, over 6000 participants have raised over $1.2 million for Island Prostate Centre.
Join team or participate as an individual and enjoy a safe, quiet route through the Vancouver Island Technology Park and surrounding trails. Register here.
Beer, Bacon and Bourbon Festival – June 24
Inspired by unique pairings between chefs and mixologists, Bacon, Beer, and Bourbon celebrates the best seasonal beers, bourbon cocktails, and the smells and tastes of pork-forward chefs' creations. The Festival focuses on bold rich flavours that elevate any guest's BBQ season in an ode to the sun gods.
This Festival is an adult fair. Walk into the Festival, and you will receive a welcome cocktail or beer and a complimentary piece of Hertel's Bacon. Wander through the Festival vendors, and indulge in the bold, rich flavors our creative chefs and beverage vendors have to offer. Make sure to show your competitive side in one of our oversized lawn games, or take a vote for your favorite creations from the arrayof chefs and mixologists.
"Dream of the smell of bacon wafting across your nose while you sip on a batch bourbon cocktail laughing with a friend. We want to create the ultimate backyard party that mimics elements of a fair but focuses on being strictly adult." – David Bain, Founder.
General and VIP tickets available – buy yours here.
Victoria Chinatown Lioness Lions Club Shred-a-thon – May 27
The Victoria Chinatown Lioness Lions Club is pleased to
be holding our 3rd Annual Paper Shredding and Bottle Drive in Saturday May 27 from 10 am – 1 pm at the Save On Foods Parking lot at Fort & Foul Bay Road
With the support of generous Sponsors 100% of the proceeds will be used to support local Charities. The proceeds from the Bottle Drive portion of our Event will be donated to the Shelbourne Community Kitchen.
Our all women Service Club was formed in 1991, providing service to those in need, with a particular emphasis to our local community as well as women and children's issues, following the principles of Lionism.
TD Victoria International JazzFest – Jun 24 – July 3
Attend eleven hot days and nights of the coolest music in town during the 40th edition of TD Victoria International JazzFest, June 22 to July 2, 2023. Vancouver Island's longest running, multi-day professional music festival presents 70 performances and four free workshops on 10 stages in Victoria, from over 300 musicians in both ticketed and free performances.
Highlights include Snarky Puppy, Molly Johnson, Sona Jobarteh, Chris Botti, and BADBADNOTGOOD. Plus, be sure to see our "Funk & Soul in the Township" Series in Bullen Park: buy all three evening shows for $99! You will see three incredible shows, save $18, and gain access to an exclusive VIP tent all weekend long!
With a mix of world-class touring artists and local favourites, pulling inspiration from jazz, blues, R&B, soul and more, TD JazzFest is the must-see event of the season with something for everyone! Learn more about purchasing tickets at jazzvictoria.ca.
Volvo Presents: Upper Fort StreetFest – June 3
Experience the whimsy and wonder of the Upper Fort Street Community at downtown Victoria's first StreetFest of 2023! Visit Upper Fort Street, between Cook and Vancouver Streets, on Saturday, June 3rd. The street will be closed to vehicles and cyclists to make room for all the incredible entertainment and activities! StreetFest will feature a beverage garden by Bear & Joey, a market of local makers, and a whole bunch of FREE family-friendly activities. What else can you expect at Upper Fort Streetfest? Let us tell you! – Live music all-day – Beverage garden by Bear & Joey – Maker's market – Four Frames Photo Booth – Multiple art activities – Face painting – Balloons – Bouncy castle – Tankless dunk tank – Silent disco – Dogs of Downtown photo booth! – SO MUCH MORE! We can't wait to see you there! Thank you to our marvelous sponsors: — Title Sponsor: Volvo —- Entertainment Sponsor: Robbins Parking —— Family Sponsor: ISL Engineering ——– Community Sponsors: – Victoria Downtown Residents Association – JAWL Properties – Victoria Royals
2023 Victoria HarbourCats Season – June to August 2023

The Victoria HarbourCats Baseball Club is celebrating its 10th Anniversary of play in the West Coast League this summer and the new season begins Friday, June 2 at 6:35 PM against the Kamloops NorthPaws.  There will be 31 home games this season at Wilson's Group Stadium at Royal Athletic Park, including four fireworks nights (June 3, June 30, July 14 and July 29), as well as six Sunday 1:00 pm matinees, including Father's Day on June 18th, and our always popular Bark in the Park, when you can bring your dog to the game, on July 16th.  There is also a Canada Day matinee on July 1.  Tickets for all games are selling fast and are available on-line, via Select Your Tickets at http://harbourcats.com/tickets or by calling the HarbourCats office at 778-265-0327.  Season tickets and 10-Game Flex Packs are also available! Please join us at the ballpark and make our 10th Anniversary season the best ever!
Teeny Tiny Garden Tour supporting Victoria Hospice – June 11
Plot your map, grab your hat, and prepare to be inspired. The 18th annual Teeny Tiny Garden Tour returns in-person Sunday, June 11.
Step into 13 fabulous gardens to see how ingenuity in small spaces can make a massive impact.
You'll find elegant formal gardens and country-in-the-city spaces. Tender herbs, veteran trees, bees, and mesmerizing blossoms of all kinds are guaranteed to capture the interest of green-thumbed and armchair gardeners. The Victoria Hospice Rooftop Garden is also being featured as a bonus stop on this year's tour.
You'll also have chances to win door prizes or to pick up a few keepsakes along the way.
Tickets are $30 and support compassionate end-of-life care at Victoria Hospice. Pick them up at GardenWorks (3 locations), Heirloom Linens, Wildwood Outdoor Living Centre, One Stop Furniture & Mattress – Sidney.
For more information visit https://victoriahospice.org/event/teeny-tiny-garden-tour-2/ or call 250-519-1744.
We hope you have fun at these wonderful, local events this Spring! If you'd like Used.ca to be a sponsor of your event on Vancouver Island, please contact our Community Manager, Carly.